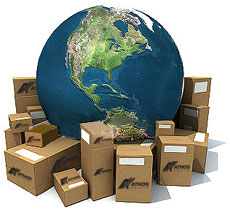 We are a company specializing in
focusing on foreign trade import and export.
We have competitive solutions involving all the legal procedures before the competent agencies to import and export. We conducted the entire process, from door to door, taking care of domestic transportation, freight forwarding and customs clearance.
In the country of destination, our agents receive international cargo and transport to make the door of the recipient. Safety guaranteed.
Our team has vast experience to help you through all customs procedures.
Wanna know more? Get in touch with us.
Renato Conceição
Diretor
Dealing with import and export for 15 years, he post-graduated in Foreign Trade at the Federal University of Rio de Janeiro – "UFRJ". He is responsible for all the process of customs brokerage at Athos Logistics.
renato@athoslogistics.com
Marselha Moraes
Gerente Financeira
Graduated in Management at the Unigranrio University, with a 8-year experience in the market, she coordinates the administrative and financial department at Athos Logistics.

financeiro@athoslogistics.com
Cleide Conceição
Coordenadora de Logistica
Graduada em Administração de empresas pela Universidade Celso Lisboa. Presente no mercado há 28 anos.
Atua na Athos Logistics como despachante aduaneira e consultora de eventos internacionais com ênfase em gerenciamento logístico.

internacional@athoslogistics.com
Tania Pereira
Coordenadora de Logistica
Graduated in Law by the Estácio de Sá University, she counts on a large experience in the sector, dealing for 10 years with import and export. She also works at Athos Logistics as a consultant for international events, with a focus on logistic management. Send an email to Tânia.
tania@athoslogistics.com
Camila Reis
Assistente de Importação e Exportação
Graduada em Direito pela Universidade Estácio de Sá. Com grande experiência no setor, trabalha há 10 anos com importação e exportação.
Na Athos Logistics, atua também como consultora de eventos internacionais com ênfase em gerenciamento logístico.
camila@athoslogistics.com